4 Playful Tourist Attractions in Banyuwangi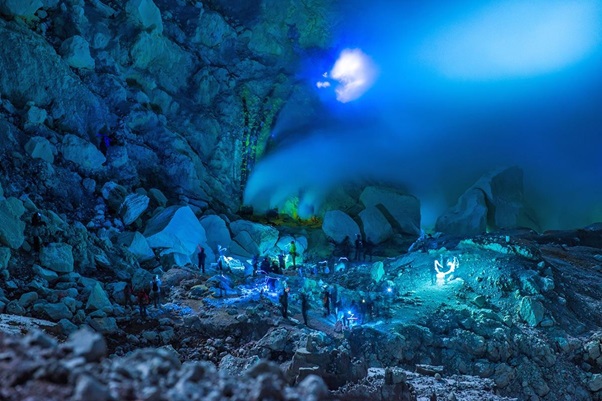 Banyuwangi is currently one of the most popular tourist destinations in East Java, because Banyuwangi has many natural attractions with beautiful and amazing panoramas.
Unfortunately, most visitors who come just pass before crossing to the Island of the Gods. If you have the opportunity to vacation again, try to stop for a moment and explore this small town nicknamed The Sunrise of Java.
The natural attractions that you can explore are pretty diverse from lowlands to highlands, mountainous and coastal areas, as well as historical locations and other ancient heritage sites. For those of you who are curious about the city of Banyuwangi, here is a list of exciting tourist attractions to visit.
Ijen Crater Banyuwangi has become increasingly popular among local and foreign tourists since it was designated as a biosphere reserve area by UNESCO in 2016. The location is still in the Ijen Tourist Park area, with an area of ​​2,560 hectares. This tourist attraction is located at the top of Mount Ijen in Licin District, Banyuwangi.
One of the most dangerous tourist attractions in the world occupies the largest caldera on the island of Java which was formed by the eruption of Mount Ijen with a width of 6 m. The watery crater itself has a depth of 200 meters. Although it is called a dangerous tourist attraction, the natural scenery in Ijen Crater is the main attraction for visitors who come. There is a blue fire phenomenon that appears at the sulfur mining location only at 05.00 WIB.
You can watch the beauty of the sunrise, whose light reflects on the surface of the water, giving rise to beautiful colors. Another interesting thing, the panoramic view of the splendor of Mount Merapi, Mount Raung, Mount Rante, and others can be clearly seen from Ijen Crater. Ijen crater tourist attraction can be reached by climbing for approximately 2-3 hours from Paltuding.
Before being developed as a Green Open Space (RTH) by the local government, Blambangan Banyuwangi Park was originally a city square. This park is flanked by 4 main roads in Banyuwangi, namely Jl. Wahidin Sudiro Husodo, Jl. Veterans, Jl. RA Kartini, and Jl. Diponegoro. Blambangan Park is also known as Gasibu Blambangan Park.
You will not be charged a penny when entering the Blambangan Park area. This park has an area of ​​32,000 m2 with neatly arranged trees. Here, visitors can use various sports facilities such as a running track, basketball court, and skateboard area.
On weekends, you will find many local residents gathering and interacting at Blambangan Park. Meanwhile, on Saturday night, visitors will be treated to dance performances typical of Banyuwangi. You can also taste the various foods that are sold while relaxing in the garden.
Sidodadi Glenmore Reservoir
Sidodadi Glenmore Reservoir is one of the newest tourist attractions in Banyuwangi. Only opened to the public in 2015 and inaugurated in 2016, this reservoir was previously built to irrigate sugarcane plantations. Because it saves the potential for the natural beauty around it, the local government then turns this reservoir into a cheap tourist location.
Located in Karangharjo, Glenmore, Sidodadi Reservoir has an area of ​​more than 6 hectares and will continue to be developed into 10 hectares. Access to the location is quite easy with good road conditions and close to the main Banyuwangi-Pacitan route. Here, visitors can do various activities such as hanging slides along the 160 meters across the reservoir, renting an ATV, boating, or challenging sports on the motor circuit.
Interestingly, the Sidodadi Glenmore Reservoir also has a beautiful flower garden, fruit garden, fishing pond, and camp area. You only need to pay a parking ticket of IDR 2,000 to IDR 5,000. While the various existing rides, the rates set vary, from Rp. 10,000 to Rp. 25,000 per vehicle.
Pura Agung Blambangan is a historic site from the Blambangan Kingdom in the Alas Purwo area, South Banyuwangi. This temple is a religious tourism magnet for certain tourists because it has a Hindu style. Located in TambakRejo Village, Muncar District, Pura Agung Blambangan is also one of the main holy places for Hindus in Indonesia. When the Kuningan holiday arrives, this temple is visited by many visitors and even people from the island of Bali.
Foreign tourists are also interested in coming to Pura Agung Blambangan because of the beauty of the building structure. This temple is the second largest after Gunung Salak Temple, and is the largest among 92 other temples in Banyuwangi. You must wear a scarf to respect local customs and culture when entering the temple area.
Before you plan a trip to Banyuwangi, be sure to read more about Banyuwangi and Indonesia by visiting Wonderful Indonesia.