Custom Built Computer: Why You Need to Have One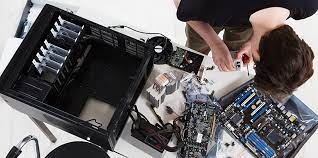 Nowadays, computers are an essential tool for doing everyday activities. Because of the pandemic, many companies and businesses have relocated their employees and staff to work from home, and the only way they can work is to have a computer. While some companies would give their employees a computer, others were not given one, so they had to use their computers.
If you were not provided with a computer from your company, it would be the perfect time to get a Custom Built PC. You can find many who are building their custom PCs because of the many advantages it can give. What makes a custom PC great is that you can do almost anything with it.
Get Your Work Done Faster
Most of the time, office computers are not that fast since they are only used for basic tasks like typing, reading files, and other non-heavy programs. Having a slow PC to work on is the most annoying thing anyone can experience, especially if you do more than using it to type. If you want to get your tasks done faster, it would be best to build a custom PC right away.
A Custom Built PC lets you choose better, high-end parts that no plain office computer will have. You can bid goodbye to slow load times and expect faster processing once you have the custom PC at home. Do not waste any time getting a custom PC if you are an employee that wants to finish tasks as quickly as possible.
Play High-end Games
Besides using it for work, you need to get a custom PC is the many superior games that you can play. You might have friends or relatives playing Call of Duty: Warzone or Apex Legends, and you want to join in on the fun. However, you cannot do that without owning a high-end PC of your own.
Fortunately, you should be able to play with them once you have built your custom PC. Ensure that you choose the best computer parts if you want to play high-end games, or else you will be stuck playing low-end games. It would be best to research the best computer parts for gaming on the market to help determine your budget.
Upgrade Your Computer Easily
A time will come when you will need to make upgrades on your computer because the parts are wearing out or there is a newer, better part that just released. If you buy a pre-built non-gaming computer, it may be difficult to upgrade it piece by piece. You are better off buying a Custom Built PC because every piece of it can be upgradeable.
You can easily replace the GPU, CPU, RAM, or SSD, and it will not cost you a lot. Most of the time, you do not have to take it to a shop because you can do the upgrading on your own if you have enough experience. You should take advantage of the custom PCs easily upgradable feature to get the most out of it.
Since you now know the benefits of building your custom PC, the next step is to look for a store that sells quality, high-end parts. You should talk to experts about the best parts to install on your system unit and get the best computer performance.