5 Smart Ways to Handle and Organise Your Stationery Supplies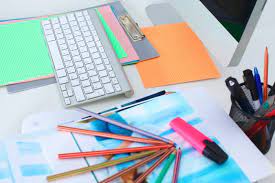 Not everyone has the same working styles. While some people work well with an organised desk, some people prefer to keep it messy. However, according to an article by Eco-Office Gals, physical environments significantly impact a person's mental wellbeing.
Whether you are working in a small home office or a bigger office, an unsystematic desk with insufficient supplies might add to the daily stress a person typically experiences. If you are unsure how to start organising your stationery supplies, below are some tips to help you choose the right stationery and efficiently handle your office supplies to maximise your productivity.
Sort out what stationeries you already have
If you have a handful of existing office supplies, you might want to sort it out. You can begin doing this by either placing them all out on a flat surface or going through them shelf by shelf and drawer by drawer. Classify each item into four different categories.
Which of these items do you use daily?
These items are your essentials and are to be kept close at hand. Ideally, you can put them in a drawer near your desk to keep it within arm's reach while still keeping your desk clean and gentle on the eyes.
Which of these items do you use weekly?
Consider storing these items in a storage bin or a box that you would not mind going through for a minute or two so you can still have them nearby without them cluttering your sacred workspace.
Which of these items do you occasionally use only?
Stationeries that are only used occasionally can be safely kept and preserved in places such as a storage room or a garage. However, keep in mind the phrase "out of sight, out of mind." Do not set aside office supplies that you intend to use anytime soon.
Which of these items has not been used for a year or more?
If you have office supplies that you have not used for more than a year, the reason might be because they are unnecessary. Consider Marie Kondo-ing your place as they are taking up valuable space. If you think getting rid of these things are a waste, you can donate your stuff and give it to someone who might need it more than you do.
Make a list of what you need.
Choose the right office supplies and know when to stock. You may not need colouring materials such as paint and watercolours in your office but need stamp pads and markers. Making a list of supplies you need helps you eliminate unnecessary expenses and save you a significant amount of time.
Make use of organisers.
A great way to keep your desk organised is by utilising useful materials such as pen holders, stationery trays, and other desk and drawer organisers. Such items are usually inexpensive and come in different shapes, colours, and materials that would go with your office setup.
Remember to focus equally on both quality and quantity.
The quality of your office supplies is important as it will determine how long these products will last longer. Investing in premium quality stationery supplies would be more cost-effective in the long run.
Learning how to have these habits incorporated into your work routine would be best. Keeping an organised desk with all the essential premium quality stationeries from your trusted supplier would maximise your productivity, making your work-life more fulfilled!
About The Author